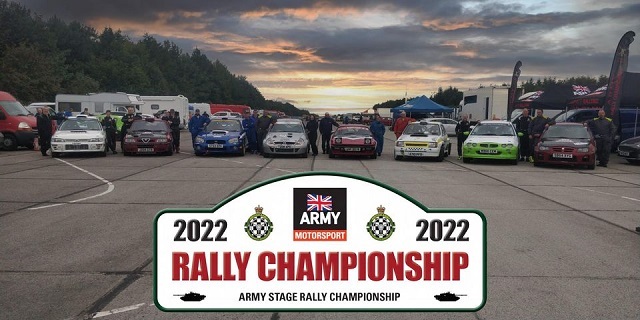 Introduction
Welcome to the home of Army Stage Rallying. Whether it be on a disused airfield or deep in the forest you will find out about it here. Why not join other BAMA members and compete in our own championship known as the Army Stage Rally Championship. We are always looking for new competitors and members so if you want to get involved get in touch.
Background
The Army has a rich history in Rallying, from navigation or 4x4 trails through to full blown 'special stage' Rallies with the Armed Forces Rally Team (AFRT) and its predecessors. Indeed the AFRT has been Rallying on special stage rallies for over 50 years. The precise art of driving a high octane vehicle, at speed, through a tight and twisty course requires the skill and determination that soldiers are renowned for. The AFRT has been offering this opportunity to all three services since its inception and many new drivers and co-drivers have been introduced to this sport via these means. The Army Stage Rally Championship will allow those who wish to compete in their own cars to receive the recognition from BAMA and the Championship to exist.
Army Stage Rally Championship
The Army Stage Rally Championship is an opportunity for BAMA members to compete, in their own vehicles, against one another in our own bespoke BAMA and ASCB approved championship. The Championship will be held over 5 point scoring events held throughout the year and allows both Co-Drivers and Drivers to compete separately. These events are spaced throughout the year and culminate with a final round held centrally.
This Championship is open to all Drivers and Co-Drivers regardless if you are in a crew or not, if you are competing with your friend/Father/Mother, then your results can count towards the championship. All you need to do is fill in the registration form, mark your vehicle up with the ASRC Plaques and provide a report within 15 days of your chosen event. The points will be added up throughout the year and extra points allocated for attending the AMD (with your vehicle) and also the final round. The Champion Driver and Co-Driver will then be crowned at a Prize Giving Dinner.
Get Started
Follow this flow chart to make a start (click to download a hyperlinked PowerPoint);
Enquiries
For more details, complete the form below or contact:
Maj Clive Allford RLC